Sure, Susan Thomas was happy to talk about her two wins at the January Full Gallop Farm Horse Trials on Jan. 29 in Aiken, S.C.
She told me all about how Fly 'N' Bayou's clean go and blue in the advanced/intermediate division signaled that her goal of moving up to advanced in February is doable. And she was excited that Cash Performer, a quirky horse who belongs to one of her most loyal amateur students, picked up a win in the preliminary division.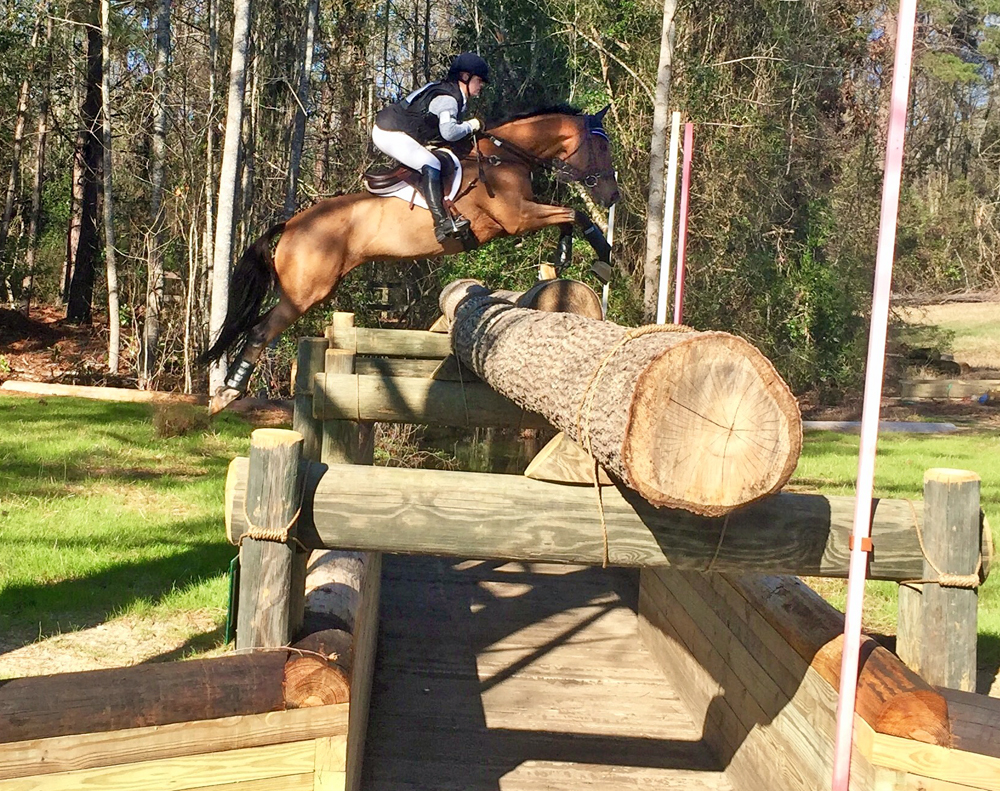 Susan Thomas and Fly 'N' Bayou on their way to their intermediate/advanced win at the January Full Gallop Farm Horse Trials. Photo by Davis Norwood
But it was when she told me about the moments she had out of the saddle at the event that Thomas' enthusiasm ramped up a notch. She noted that one student was done riding at 10 a.m., jumping clean around her second preliminary outing and placing ninth, but stayed the whole day to help her friends.
"She took care of her horse—icing him and wrapping him—then let him hang out in a stall while she and her family helped all her friends," Thomas said. "It's a cool group of kids and their families, and I have a lot of fun with it. One of my students' 18th birthday was on Saturday, so we had a big cookout at the show and fried up some wings and had a birthday cake."
Thomas, who runs her Charbonnet Sport Horses out of Jefferson, Ga., has been teaching and training professionally since 2013. "My goal is to go as far as I can competitively. I don't necessarily have aspirations to ride on the U.S. team; I just want to reach my personal goals. I really enjoy that aspect of it," she said.
"But also, I love working with teenagers. The 14- to 20-year-old range of students is so much fun for me. The last year, I was competing a lot and was so busy and got stressed out a bit as every small business owner does. I sort of had to re-evaluate my goals," she continued.
"I sat down with myself and realized that as much as I do love competing and riding and training, I'm also really passionate about working with young people who have the same interests as I do, and as I did when I was that age. Not necessarily just encouraging them to ride, but also to take in all the life lessons they can from the sport and what they do with their horses. I have so much fun seeing them develop into people over time. I have a fabulous group of kids and their families are amazing and supportive.
"My business is very important to me because of what it means to me. It's always been a goal and a dream of mine, and I'm making it happen. There's a lot of trial and error—I'm probably learning more from error than anything else—but I have a great group of people around me. We all have fun," Thomas added.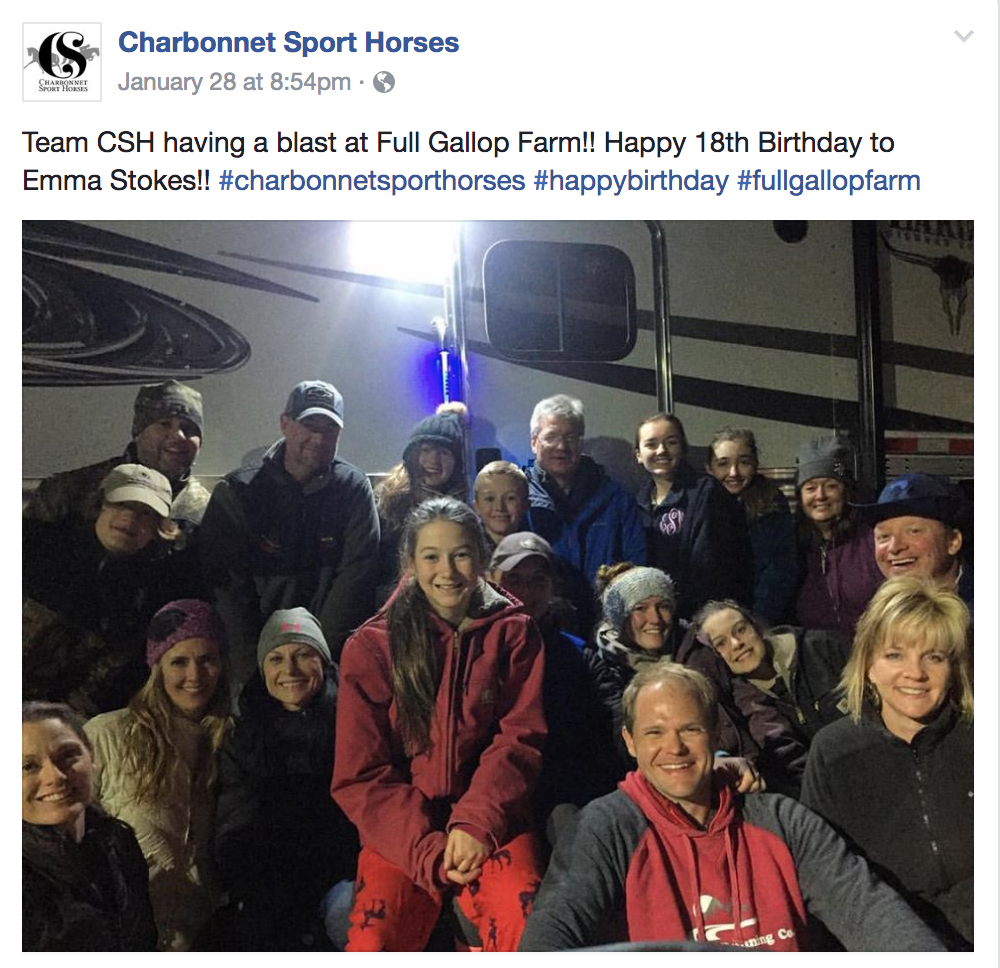 The Facebook page for Charbonnet Sport Horses is filled with Thomas' students' accomplishments. Thomas, a graduate A-rated Pony Clubber, also enthusiastically supports them in Pony Club endeavors as well.
Thomas, 26, grew up eventing in Virginia. "I went to Rolex to watch when I was 10 years old, before I really ever knew what eventing was, and I remember being terrified but saying, 'I want to do THAT.' Ever since then I've wanted to ride and have a horse business. But as a kid, I had zero idea what that would actually entail," she said. She attended the University of Georgia, studying equine science and agri-business. "I started to understand what it might take to have my own business," she said. After she graduated, she worked managing a foxhunting barn in Georgia and evented some sales horses. From 2012 to '13, she brought her own off-the-track Thoroughbred, With A Little Luck from the training level to the CIC** level.
Thomas sadly lost With A Little Luck in late 2013, but in the spring of 2014, she used a little bit of inheritance money from her grandfather and the insurance settlement to buy a special young horse, Fly 'N' Bayou, another off-the-track Thoroughbred and the one who won the intermediate/advanced division at Full Gallop.
"I've done some one-stars and two-stars and I'm hoping to move him up to advanced this year and do some three-stars," she said. "He's a cool horse. He's a little quirky—I love the Thoroughbreds. He's special to me because my grandfather, who passed away a few years ago, had always talked about wanting to get me a horse off the track from Louisiana, because my family is from New Orleans. When I got 'Adam,' I used some money that my grandfather had left me when he passed away. Ironically, I found out later that he had raced in Louisiana. He's special. He really has filled a void for me; I didn't think I'd find a horse to quickly to fill that gap that my other horse left, but Adam is slowly starting to step up to the plate with that."
Thomas' preliminary level win came aboard Cash Performer, a 15-year-old off-the-track Thoroughbred owned by Leslie Garner. "Leslie has been with me from Day 1 that I started my business," Thomas said. "That horse has had the occasional confidence issue in the show jumping. Whenever he goes and jumps a really confident, clean show jumping round we're really happy. Winning is just the icing on the cake!"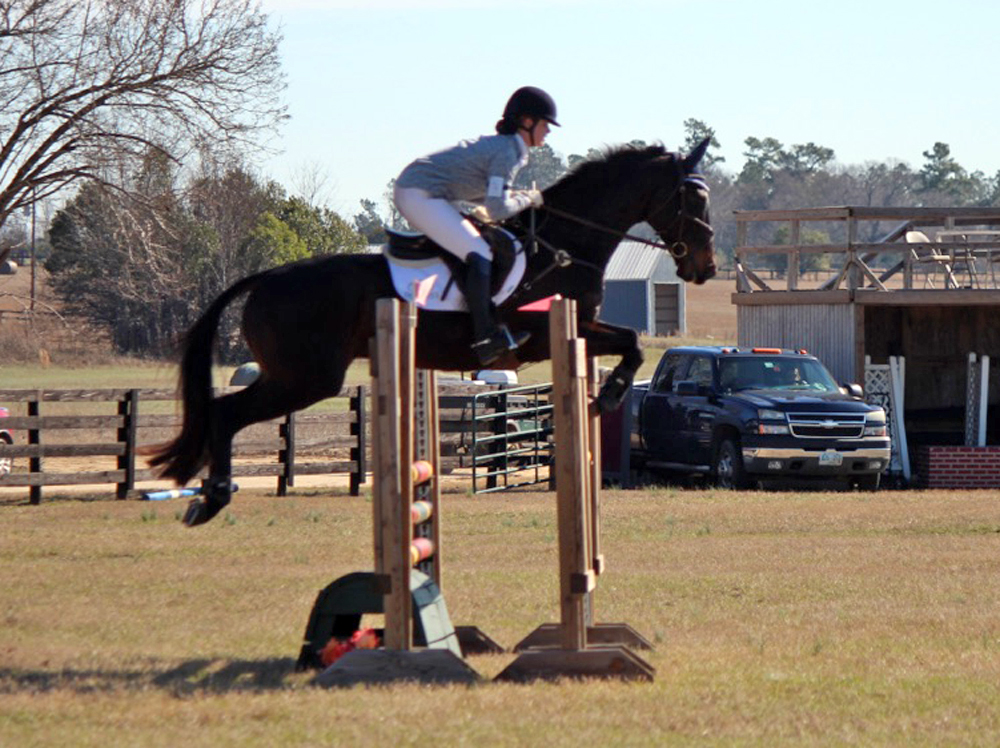 Susan Thomas on Cash Performer in the show jumping at January Full Gallop Farm Horse Trials, where they won the preliminary divsion. Photo by Lisa Shurtz
Garner also competes Cash Performer at training level, and she and Thomas take turns eventing him since Garner's job as a nurse anesthetist and life as a mother limit her schedule. Cash Performer lives at Garner's farm, but Thomas rides him once or twice a week.
"I have a long-term relationship with him, so it's not really a 'catch ride' per se, but he's not a horse that I get to school on a regular basis. But his owner schools him and she takes lessons from me so I'm always seeing him," she said. "At first, I was like, 'I don't know how this is going to work,' but it works well. When I was doing the one-stars with him and moved up to intermediate, Leslie was pregnant, but still doing a lot of the flatwork and conditioning on him because she enjoys that part of it. When we'd go to an event, she'd come and take care of him and cheer us on."
When she can, Thomas rides with Sally Cousins. She spent time riding with Cousins when she was in high school, and appreciates her approach. "When she's in Aiken, she's not too far away. So I had a lesson with her on Friday before [Full Gallop]. Then she and I were the top three in the preliminary division," Thomas said. "She's somebody I really admire as a person because she seems to keep her head on straight." When riding with Cousins isn't an option, Thomas also goes to Kristin Schmolze for lessons. "She just relocated to Georgia a year ago and she's helped me a lot with my horses," she said.
Between riding, competing and teaching, Thomas' plate is pretty full, but in the early mornings she finds time to devote to another of her passions—running. She runs in 5- and 10-K races and half-marathons. "I'm currently training to break my personal record in a half-marathon in March. So in the midst of the busy competition schedule, I work hard early in the morning to try and reach the running goals as well," she said.
"I encourage my students to run, too. I challenged them to do at least two 5Ks this year. I know not everyone likes running, but I think cross-training is really important for riders. I've never seen a sport where athletes didn't cross-train, so I'm pretty passionate about encouraging to really look at riding as a sport in the same way other sports are viewed, because it is an extremely athletic endeavor."
Like this story? We're always on the lookout for ideas for fun Winners Of The Week! Do you have a great story, and you had a fantastic weekend? If on Sunday night you someone with a brand-new blue ribbon and a neat background or unusual horse, EMAIL US and tell us all about it!