Wellington, Fla.—Feb. 5
They say those who can't do teach—not so for U.S. rider Laura Kraut. She does both extremely well, competing at the highest level herself while coaching a small contingent of talented young riders.
It was Kraut's former student Egyptian rider Nayel Nassar who outpaced Kraut to win the $216,000 Longines FEI World Cup Jumping class at the Palm Beach Masters, beating Kraut by less than a second.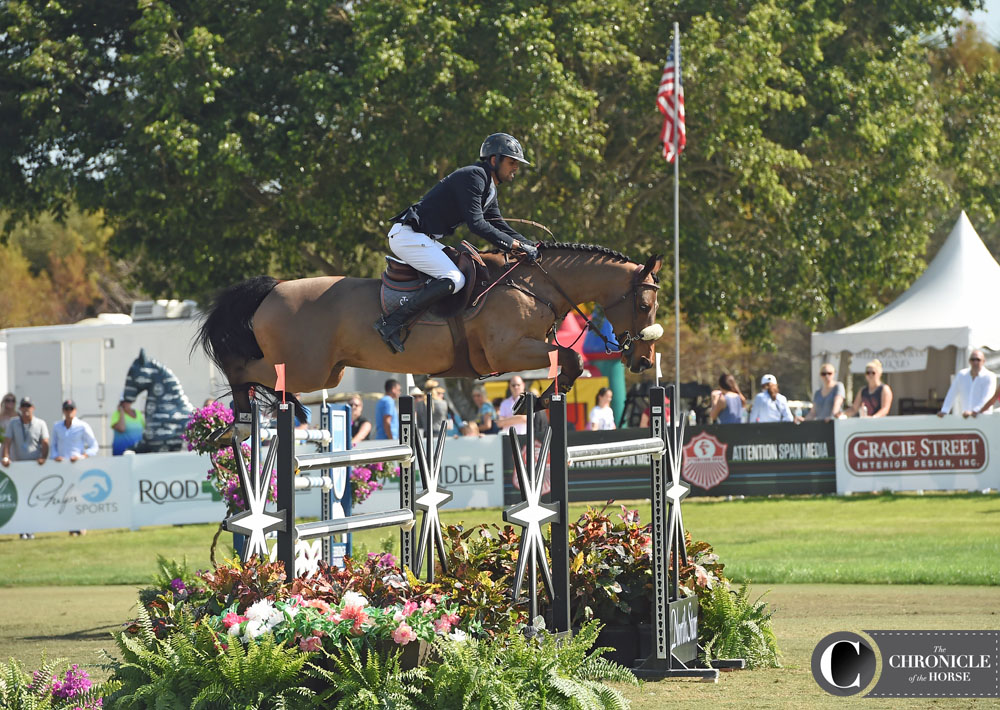 Nayel Nassar and Lordan laid down a jump-off so lightning fast, even Nassar's former trainer and U.S. powerhouse Laura Kraut couldn't catch him! Photo by Ann Glavan
"I really tried to beat him," Kraut said with a laugh, and she's not kidding—she had Zeremonie rocking around the course and gunned her through the timers to no avail. "I knew he was going to be the one to try to beat, and I even got to see him go, and I couldn't beat him.
"I think, is it because I'm getting old?" Kraut asked with a laugh, eliciting the same reaction from Nassar. Nassar trained with Kraut for a year in 2012.
"When he came to me, I can recall that I thought he was one of the most talented young riders to come along in a while," Kraut said.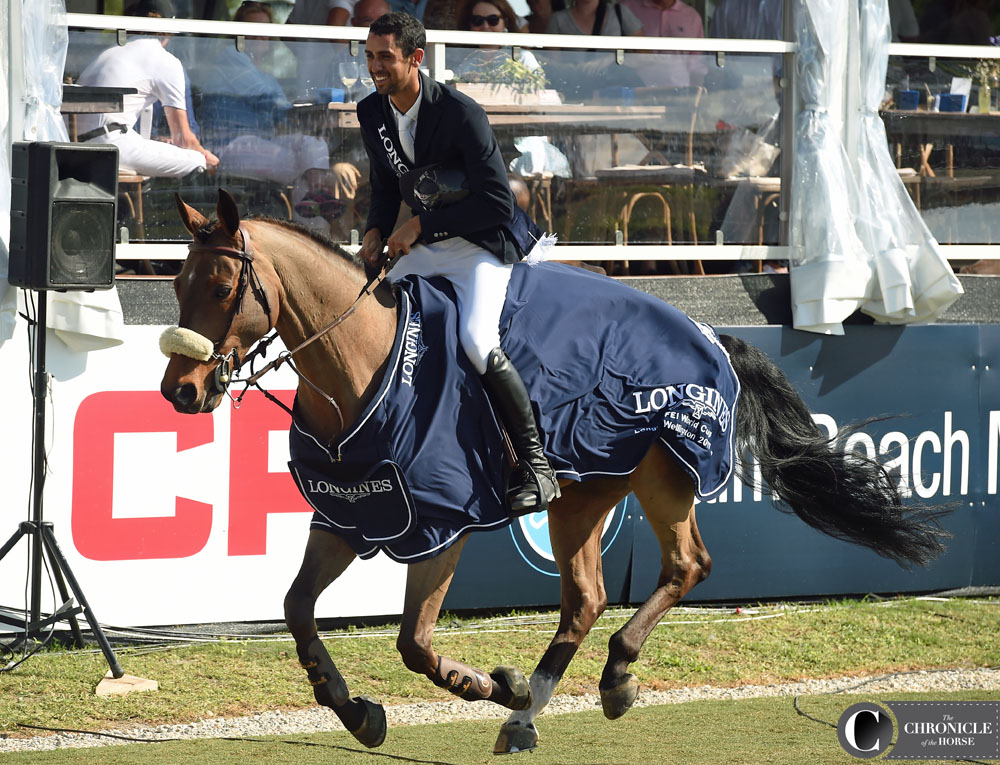 Nayel Nassar and Lordan took a victory gallop lap at the Palm Beach Masters. Photo by Ann Glavan
"I just let it rip, and [Lordan] answered the questions," Nassar, 26, said. The 13-year-old stallion has been competing at the international level since 2011 with Nassar. "I didn't expect it, since this is my first show of the year, but Lordan is such an incredible trier, and I know him like the back of my hand at this point."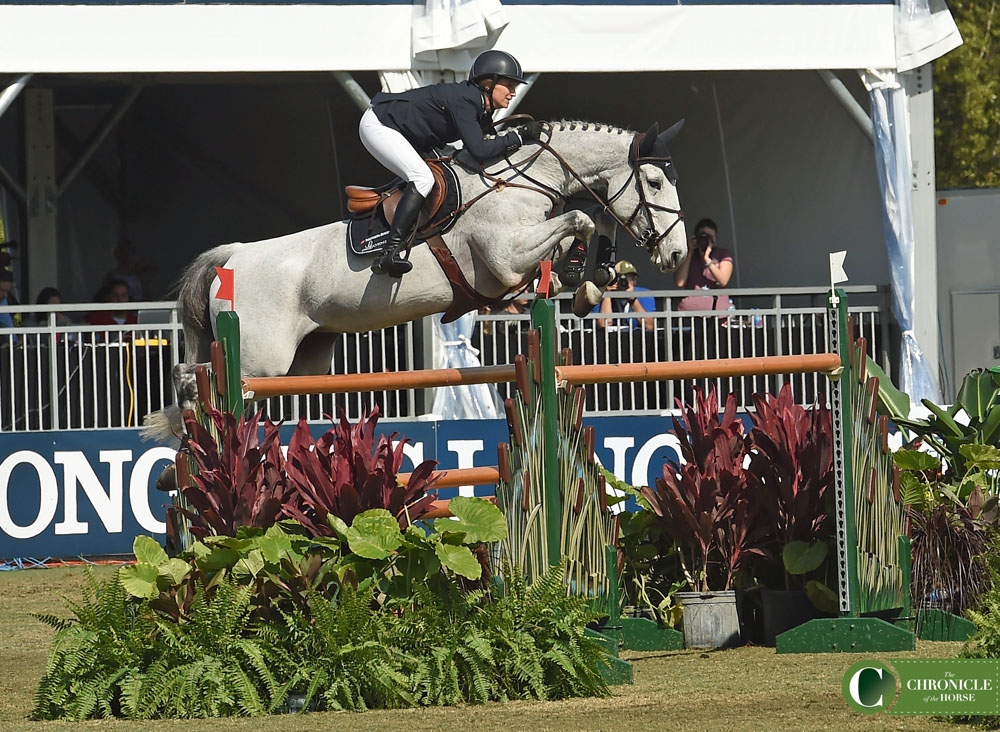 Laura Kraut and the super jumper Zeremonie had to settle for second again in Sunday's class at the Palm Beach Masters. The pair also took second in the opening round on Friday. Photo by Ann Glavan
The track designed by Alan Wade was nothing to sniff at. Though 10 horses eventually made it through to the jump-off from the original starting order of 40, the first three horses in the ring for the day, some usually very strong competitors, didn't even make it around: Callan Solem fell off VDL Wizard in the triple combination (sticking the landing!), Charlie Jacobs and Cassinja elected to retire after a few hairy moments, and young rider Taylor Land was eliminated on For Edition for two refusals.
Later in the order, German powerhouse Meredith Michaels-Beerbaum was clocking around clear and in fine form with Comanche 28 before the horse swam through the final oxer on course, throwing Michaels-Beerbaum to the ground and making for a tense moment when she did not get up. The Palm Beach Masters issued a statement that Michaels-Beerbaum was alert after the fall but transported to a nearby hospital to be fully checked out.
Then there were the many and varied errors around the course at particularly tall verticals and tough combinations. Nassar went late in the order, and he was fully prepared to contend with a challenging course.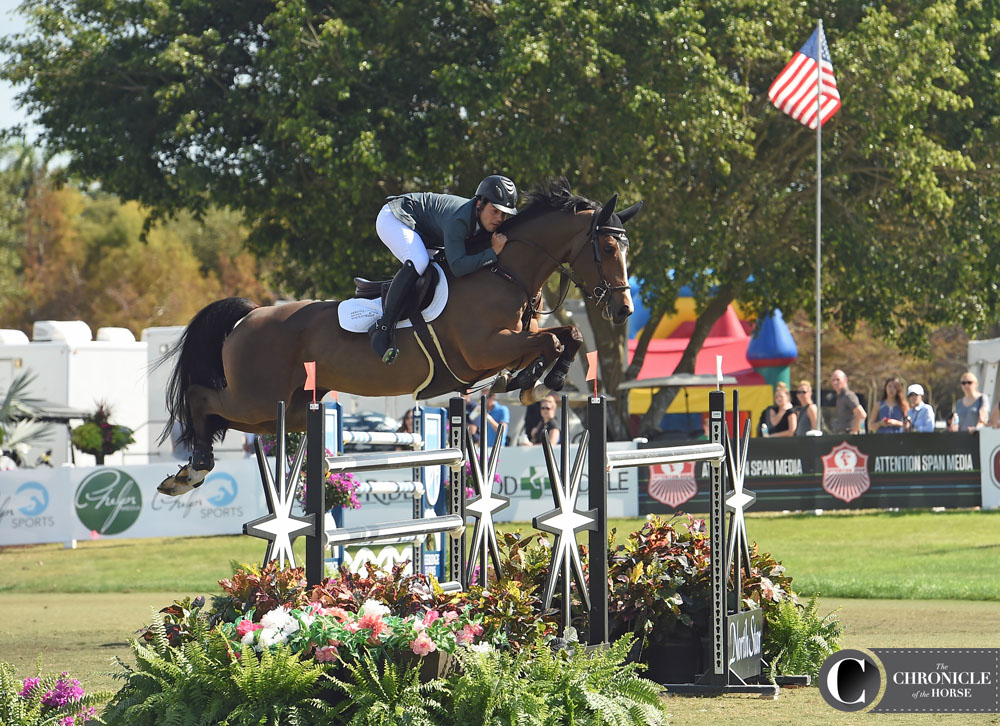 Sergio Alvarez Moya took third on Arrayan in Sunday's World Cup qualifier. Photo by Ann Glavan
"I thought it was tough. When I walked it I thought it was quite difficult," Nassar, 26, said. "And not so great for my horse, either, because there were not too many places where I could add a stride.
"I kind of changed my plan a little bit going into the ring," Nassar continued. "I was planning on doing an extra stride down the first line and down the second line, but I just caught a nice distance to [jump 3] the triple bar, and I didn't want to get handsy early on in the course, just like Laura has taught me. I just rode up the first couple lines and then had him in a rhythm and set him on his hind end for the rest of the way."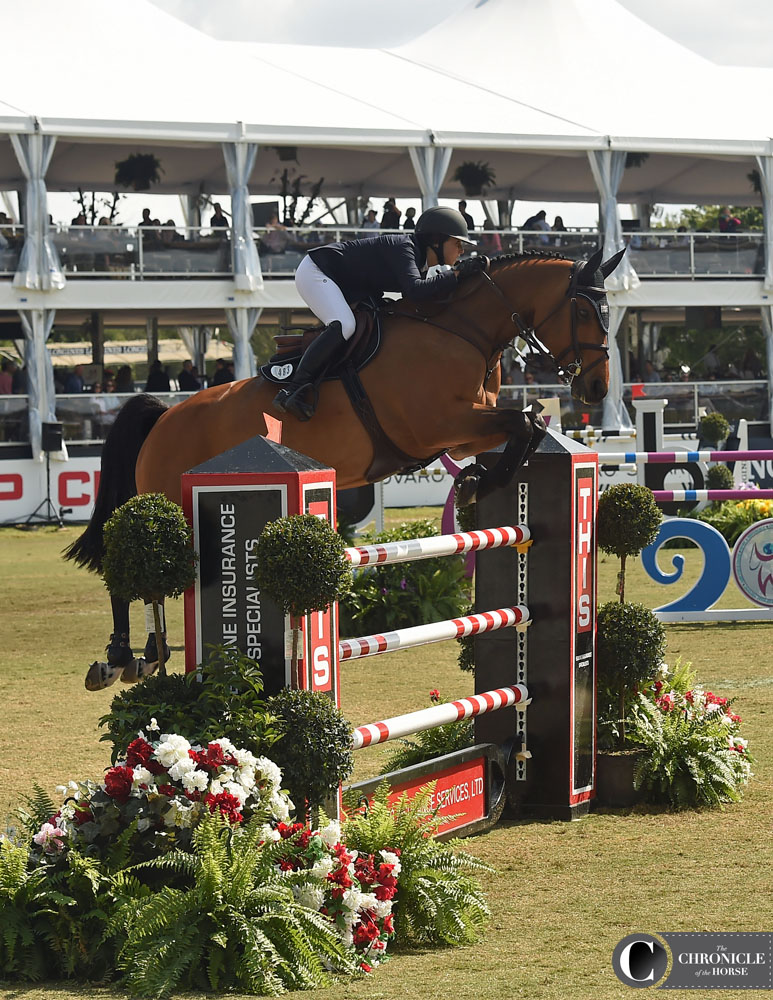 Adrienne Sternlicht and Cristalline took fourth. Photo by Ann Glavan
Wade was happy with the way the class played out, noting that he is never worried about the numbers or the ratio of clear rounds to faults—he looks at the entry list and builds to the level of the class.
"I still had in the back of my mind that it wasn't a five-star, but we still had some five-star combinations here, as well as some that are hoping that they will be five-star in the future," Wade said. "I think today we saw thrills and spills; we saw excitement, and we saw the skill of the athletes and top horses. That's why I love show jumping so much."
Sergio Alvarez Moya took third on Arrayan, a good finish for the Spanish rider with his eye on the Longines FEI World Cup Final in Omaha, Neb.
"I needed some points to qualify for the final, and I hope after the grand prix today I'll make it," Moya said.
Don't forget to check out The Chronicle of the Horse magazine for more in-depth coverage from the Palm Beach Masters! Full results for the class here.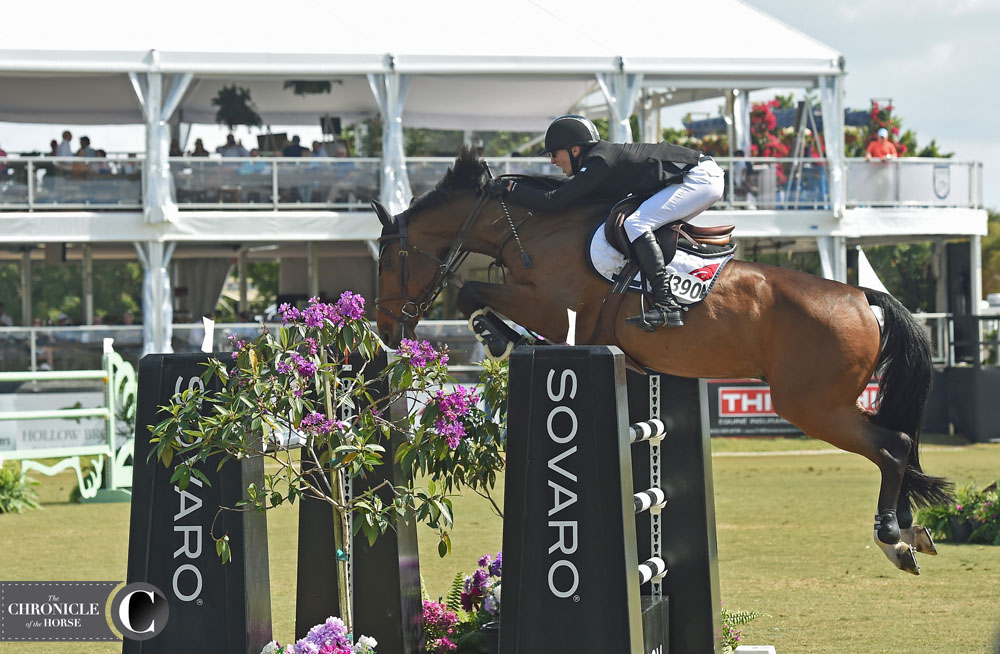 Wilton Porter and Caletto Cabana took fifth. Photo by Ann Glavan.
Karen Polle and With Wings took sixth. Photo by Ann Glavan.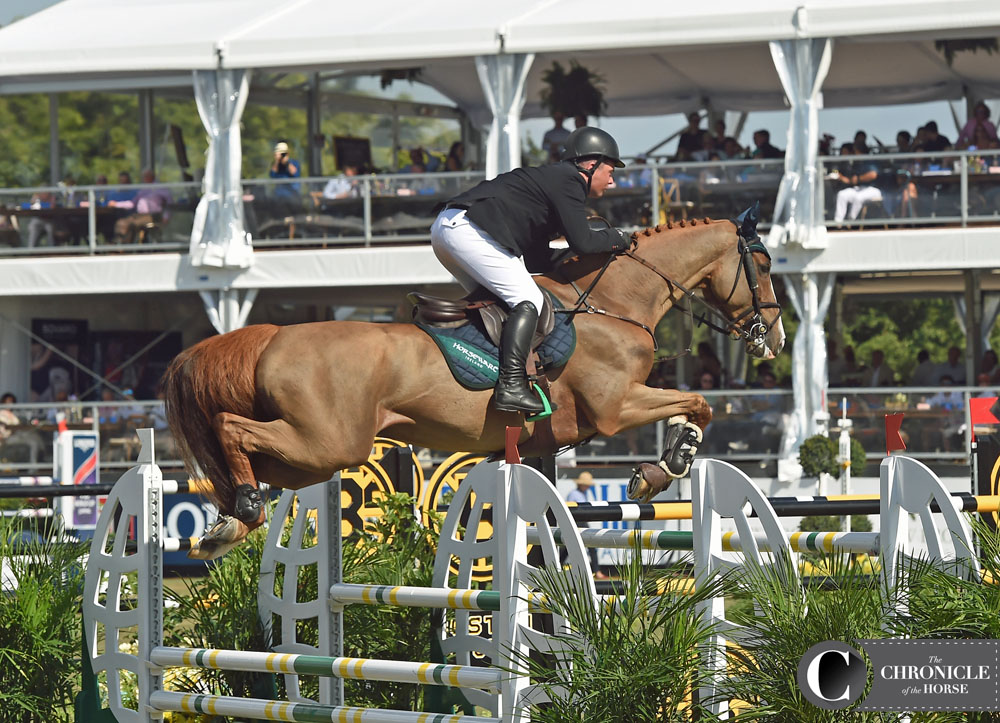 Cian O'Connor and Seringat took seventh. Photo by Ann Glavan.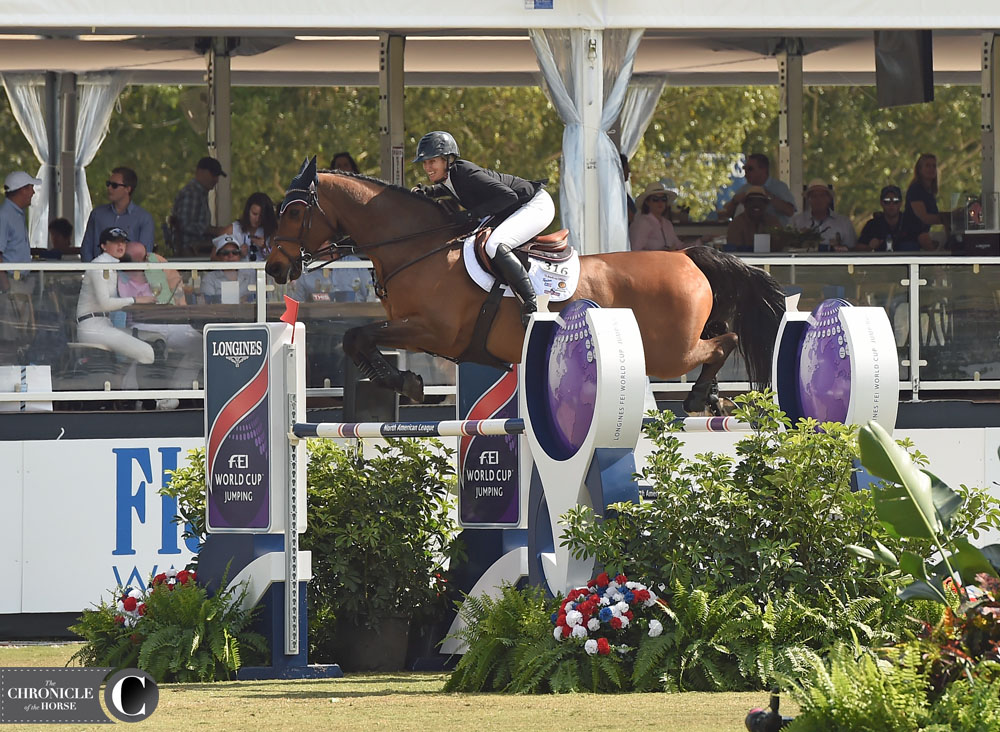 Amy Millar couldn't help but smile as she cleared the final fence on course with Heros. She ended up eighth. Photo by Ann Glavan.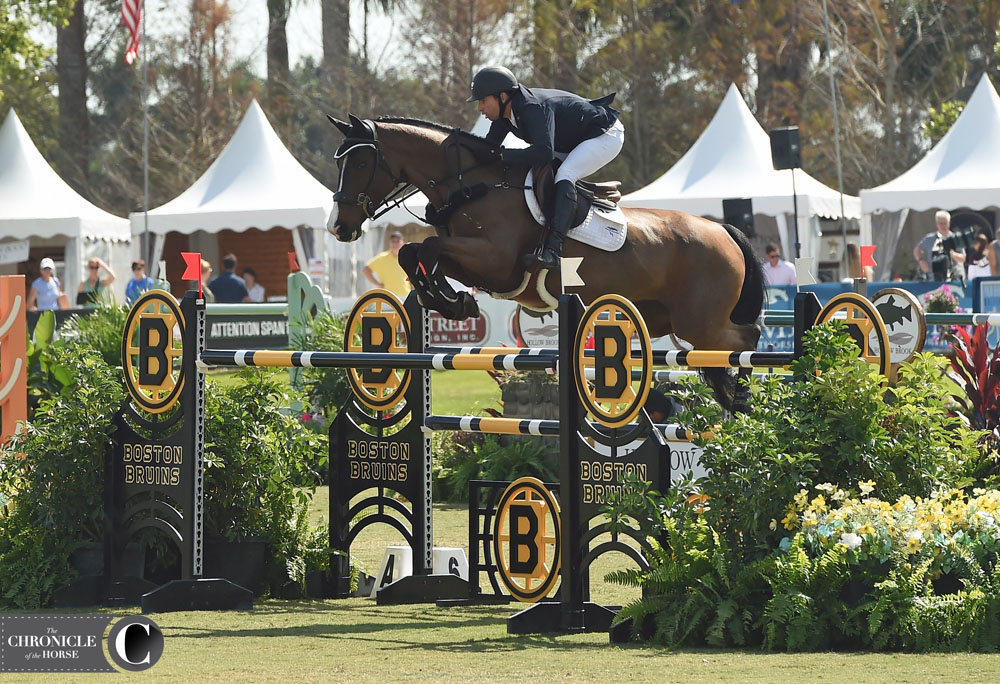 Chris Surbey and Chalacorada took ninth. Photo by Ann Glavan.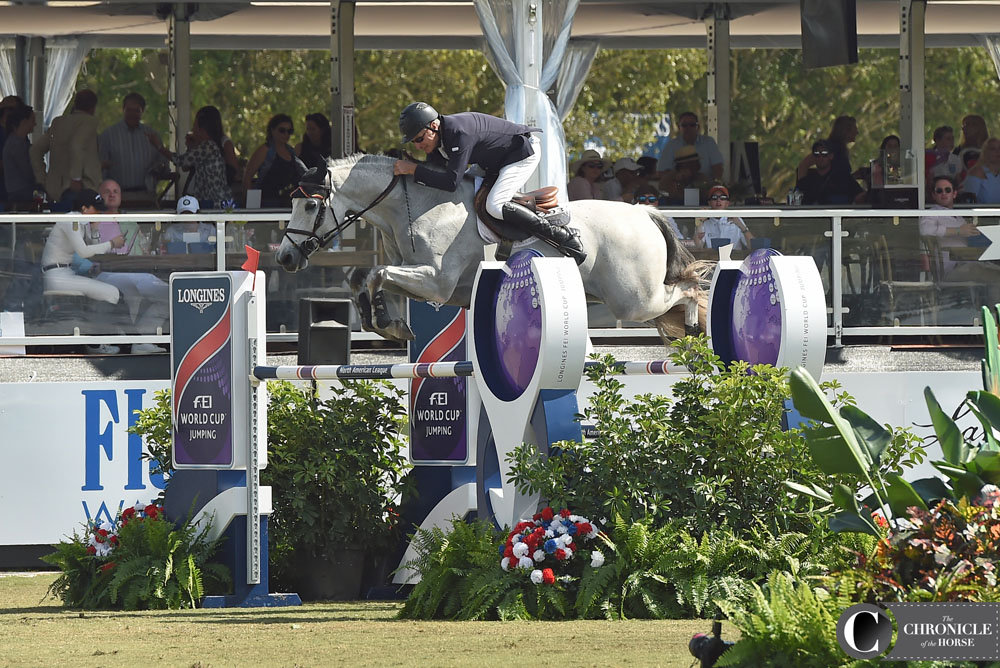 Mac Cone and Gasper Van Den Doorn rounded out the 10-horse jump off and fnished in 10th place. Photo by Ann Glavan.